Turn End-of-School-Year Clutter into Summer Fun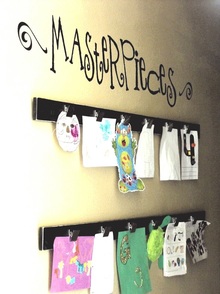 ​Can you believe school is over?! My youngest started kindergarten as a baby and somehow during the school year, right before my eyes, has turned into a big girl. I now have a rising 3rd grader and a rising 1st grader… where has the time gone?!

I am so impressed by all the work the kids do throughout the school year. If your house is anything like mine, by June your child's school papers pile is probably 2 feet tall! Now is the perfect time to skim down the pile and create a storage system that works for you year round. ​​
It's important to get the kids involved in selecting the school art and papers that are kept.
​As parents, we may think something is worth keeping for the child, but in the child's eye, it wasn't some of their best work.

Have the children pick out their favorite artwork (a limit of 10 items each at most) and find creative ways to use it: Have a favorite piece framed and displayed somewhere in your home, or give a few pieces as gifts to family members.
​
​Store the remaining pieces of art in a portfolio or in an under-the-bed container. Every year go through the container and switch up the artwork.
Wondering what to do with all the school workbooks, notebooks, folders and worksheets that come home?
Pull out any written stories or favorite comments, along with any report cards, certificates or memories from the year and place in a file folder.
Label the folder with the grade on it, and store in a file box or small container designated for each child, and recycle the rest.

Store any unused and reusable school supplies in a bin for the next year, and replenish your household stationary from the excess school supplies.
​Donate or recycle the rest.
After laundering the last of the school uniforms, donate or hand down the ones that don't currently fit, and store the remaining in a closet or drawer.

Spend a few minutes and write up a Summer "To Do" List with the kids.
Ask each child what his/her hopes and plans are for the summer.
Compile a fun list of activities that may be as simple as riding bikes or blowing bubbles!

Make life easy and have your beach or pool bag stocked for the day.
Have a designated spot for wet towels and bathing suits so there's not a pile of wet clothes laying around.
Keep fresh fruits and veggies handy, so the kids can reach for a quick and healthy snack!

Keep a loose routine during the Summer, so chaos doesn't reign in your home. Have summer reading and chores done in the morning before camp or any play happens.

Take time to enjoy the birds chirping, the late-setting sun , the kids' creatively playing and summer bbq's!

If you need help organizing the End-of-School-Year clutter, or want to implement an organizing process you can manage on your own, contact me for a free consult!
---