Preparing For The Holiday Season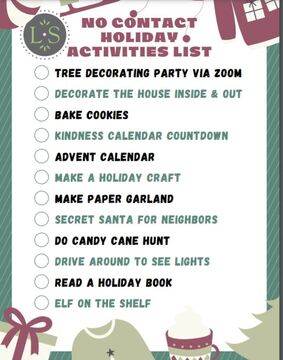 ​This Holiday season will be quite different this year! Assess your holiday traditions like family gatherings and church services. Do they need tweaking this year due to social distancing? If so start planning now. Schedule one-on one time with the people you want to see, in person or on a zoom call. Are your travel plans cancelled? Schedule a video call to open presents with family or friends. Send holiday cards, even if this is not a regular tradition for you. Everyone can enjoy some cheerfulness.
​
The one tradition we were able to follow through with this year is decorating the house inside and out. My husband and son have certain decorations that they want to put up. Being able to put up the decorations and still maintain a stress free environment takes lots of organization. I thought my 13 year old and 10-year-old would know that some of the holiday activities we normally do would not happen this year, I was wrong! I decided to find some fun holiday activities that are safe but still bring cheer to my kiddos. This time of the year is so magical for us. Driving around and seeing the homes with all their lights brings a smile to me. What are you doing to stay calm during this busy season?

Below is a list of some fun no contact holiday list.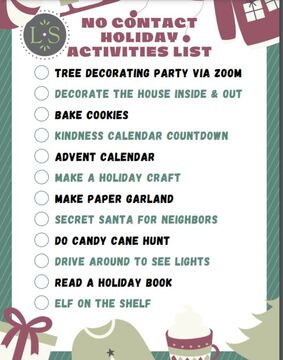 Want more Holiday tips check out my Christmas Checklist. If you are still struggling we can help with all your organizing needs, reach out to make an appointment today.
christmas_countdown_checklist_-.pdf

Enjoy The Holiday Season
​Annie

---