Junk Drawer Clean Out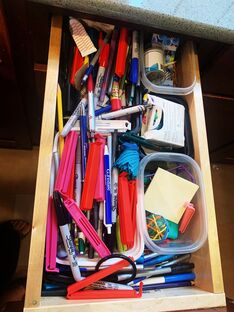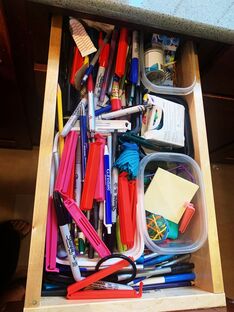 Junk Drawer Chaos
Who has a junk drawer, or maybe two junk drawers?

Some people may feel that a junk drawer should not exist, but in my opinion you need one drawer to hold the miscellaneous stuff as long it organized. As long as you are not lacking drawer space a junk drawer can be a mini organized command center. Do you need the drawer space but still need the miscellaneous items at the ready, think of over the door organizer with horizontal pockets. The pockets are great to hold the flashlights, tools, pens and clip holders.
Declutter the chaos of the junk drawer is quick organizing task with amazing results.

Follow these quick steps for an organized Junk Drawer:
1. Empty the drawer, throw out the trash
2. Sort like items together, put all the lighters, candles together
3. Here is the moment of TRUTH:
DO you really need 50 ketchup packets from fast food restaurants? Do you need 30 silverware packs from take out places? How many menus do you really look at? Do the 100 of pens and sharpies actually work? Do you need all them in the junk drawer?

4. Consolidate all the excess pens, condiments, and tools. Relocate the pens to the office area, and tools to the tool area. Recycle the extra menus, donate condiments and silverware packs
5. Organize: Once you have only the essentials that you need at hand you put the like items together in a utensil organizer
https://www.amazon.com/Dial-Industries-B694W-Small-Organizer/dp/B00114ZTBO/ref=sr_1_11?crid=KOD3Y4R9SMPM&dchild=1&keywords=utensil+tray+drawer+organizer&qid=1600698369&sprefix=ut%2Caps%2C175&sr=8-11

Drawer Organizer:
https://www.amazon.com/gp/slredirect/picassoRedirect.html/ref=pa_sp_atf_aps_sr_pg1_1?ie=UTF8&adId=A0726999119C6O5KUMDET&url=%2FIHOMECOOKER-4-size-Drawer-Organizer-Storage%2Fdp%2FB0897B6X9D%2Fref%3Dsr_1_4_sspa%3Fcrid%3D15EYDPY8FKV7S%26dchild%3D1%26keywords%3Dsmall%2Bdrawer%2Borganizer%26qid%3D1600698286%26sprefix%3Dsmall%2Bdrawer%252Caps%252C161%26sr%3D8-4-spons%26psc%3D1&qualifier=1600698285&id=2629135421184885&widgetName=sp_atf

Drawer Divider: https://www.amazon.com/gp/slredirect/picassoRedirect.html/ref=pa_sp_atf_aps_sr_pg1_1?ie=UTF8&adId=A02774767GVRVSB6SGZT&url=%2FAdjustable-Organizers-Spring-loaded-Expandable-Organization%2Fdp%2FB088TBDB2Z%2Fref%3Dsr_1_2_sspa%3Fcrid%3D1OGSSUJ0WZOC3%26dchild%3D1%26keywords%3Ddrawer%2Bdividers%26qid%3D1600698534%26sprefix%3Ddr%252Caps%252C188%26sr%3D8-2-spons%26psc%3D1&qualifier=1600698534&id=7380495419192101&widgetName=sp_atf

Enjoy the quick organizing task! Thanks to the 10 minutes you took there is no more digging for what you need!
---