Control the Blizzard of Clutter!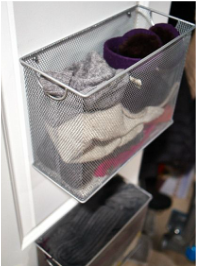 My kids love the snow - they'd stay outside all day if I let them! While I love to see them happy, I do NOT love mounds of hats, gloves, boots, jackets, and snow pants which end up all over the floor.
​
To stop these items from drifting all over your house, follow these simple tips:
​
Bins & Drawers
*Provide each member of the family with a labeled, plastic bin/drawer for his/her hats, gloves, etc. If the bin is large enough, snow pants and jackets can go in there as well (hang wet items to dry before putting them back in the bin).
*Label separate bins or drawers for different items - hats in one, gloves and mittens in another, boots in a third.
*Store the items where they are easily accessible - in a closet, mudroom, or entryway. Bins can be stored on shelves or under a bench; basic plastic drawers can be hidden in a closet.
---
Built-ins
*Provide each member of the family with their own area - a cubby for hats & gloves and hooks or hangers for jackets & snow bibs. Encourage children to return their things to their area so they always know where to find them! Use decorative baskets, hooks, and hangers to control the clutter and keep the built-ins looking nice.
---
What About the Boots?​
There's nothing worse for your floors than snowy and salty boots. Put wet boots on Trays - the snowy mess melts onto the tray instead of your floor! If you have the space, mount a Boot Rack on a wall in your mudroom or on the back of a closet door!
---
​Over the Door Organizers
​Use the pockets to store gloves, hats, scarves, and extra socks.
Use what you have!
Keep it simple and store gloves in coat pockets; hang earmuffs and scarves on hangers.
---
Each family and home is different. You may need to plow through these strategies until you find the one that works best for you!

Need help digging out from the piles of snow gear? Contact me - I'm happy to help!

Get organized, stay warm, and enjoy the next snow day to come your way!

Annie
---