Packing it all away...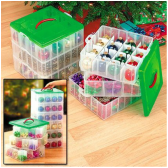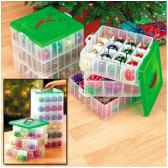 The shopping is done; the gifts have been given. The New Year is upon us and it's time to put away the decorations. Whether you are ready for the season to be over or feeling reluctant to pack it all up, putting everything away in an organized manner will save you time and frustration next year!
​
Use ornament organizers such as these to keep your precious ornaments safe from damage. The clear containers makes it easy to see what is inside - be sure to have one or two for the irreplaceable crafts and ornaments your children make for you!


​
---
---
Sick and tired of untangling Christmas lights year after year? Winding them around cardboard pieces or wrapping paper tubes keeps them tangle free! Make decorating next year a snap by labeling the cardboard with the location of where the lights are to be used (tree; outside hedge; front window, etc.)
​
---
---
Storage containers are your friend! Use them to pack away all of your decorations so that they stay safe and dry. Label the boxes with exactly what is inside - that way, next year, finding what you are looking for will take a few seconds instead of a few hours! If something inside is valuable or breakable, put that on the label too so there is no confusion that it should be handled with care.
---
---
Baking homemade cookies is a family tradition in many homes, however, storing those cookie cutters can be a real pain. This container (or one like it) will keep them in one location and adds a bit of decoration to the kitchen all year round!
​
---
---

Feeling overwhelmed about getting all of your decorations put away? Life Simplified can help! Contact me and I will be happy to pack it all up so that you can start the New Year with one less thing to do!

Have a Happy, Healthy, Prosperous New Year, Everyone!
Annie
---